NAMASTE




"Hello and welcome

to the world of
Authentic Yoga 

teacher training!"

 
The Three "W" (what, why, whom)
What is 200-hour yoga TTC.?
TTC means Yoga teacher training course. It is an international standard for Yoga studies registered under Yoga Alliance which is the largest nonprofit association representing the yoga community.
Why 200-hour yoga TTC.?
To learn the fundamentals of yoga 200 hr is the first step followed by 300, 500 etc. which includes asana practical's, yoga philosophy as a theory, recreation, outdoor activities which helps physically, mentally, emotionally and also connects spiritually.
Who is 200-hour yoga TTC for?
Newbie/beginner taking up yoga.
One who aspires to be a yoga teacher.
Anyone interested in learning and deepening authentic yoga techniques.
Additionally, for those who desire to live a yogic lifestyle.
Yoga can be known only by Yoga
Outline of Hatha yoga teacher training Goa
✓ Teacher training immersions are a transformative and life-changing experience.Our 200 hour yoga ttc immersions were created to  empower you as a student in order to support you as an informed and inclusive teacher.
✓ This residential 200 hour yoga teacher training Goa takes place at our Adiyogam yoga center in goa, and gives you the opportunity to live like a local for your time in arambol, Goa and relax amidst the vast beauty and tranquillity of the coastline and serenity of GOA and soak in the golden rays of the sun.
✓ Deepen your relationship while practising yoga, hands-on practical's, intro to pranayama (breath work), and meditation, study of asana, art of accessible and inclusive teaching, intentional sequences, anatomy for yoga, and more combine to create a comprehensive and intuitive learning experience for students.
✓ You will learn the skills necessary to develop yoga experiences, deepen your connection to teaching, find your voice, and incorporate what is special about you into your instruction through group practical's, one-on-one feedback, and mentoring from your lead instructors. Make
your practise better and more in-depth, and discover your individual yoga voice before becoming a certified yoga instructor in participating Hatha Yoga Teacher Training Course Goa.
✓ We want to motivate and enlighten people. To provide you a chance to grow both on and off the mat by allowing you to learn, immerse, evolve, inspire, empower and experience 200 hour yoga teacher training certification.
✓ Upon completion of your yoga teacher training in goa, you will graduate equipped to lead hatha vinyasa classes and qualify to register with Yoga Alliance and Yoga Alliance Professionals.
✓ There are only a selected number of students available in Adiyogam goa india yoga teacher training. We are committed to giving you the best Hatha-Vinyasa education that your money can buy in addition to a fantastic yoga teacher training programme.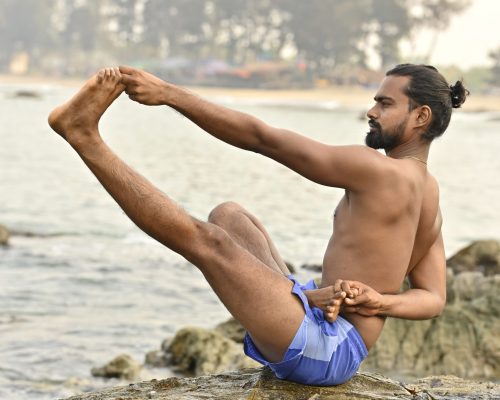 For Enquiries
422/2, Bhatawadi, Corgao, Goa 403512 
What makes this 200 hour yoga teacher training certification special!
✓We are passionate about yoga and go above and beyond to share that passion with you. As a result, we pour our hearts, souls, and all of our knowledge into providing you with a thorough training and a really one-of-a-kind, life-changing experience.
✓We bridge eastern and western knowledge, philosophy, and teachings by fusing traditional Hatha yoga with modern Vinyasa flow in a creative and intelligent way with Iyengar methodology. As a result, we give
✓you a balance between a long-established, holistic, and grounding practise and a dynamic, creative, and playful contemporary flow style.
✓Explore the relationship between the mind, movement, and breath by participating in daily yoga and meditation classes led by knowledgeable instructors.
✓Become skilled at remaining rooted in each stance, both physically and psychologically. .
✓You can eat yogic, vegetarian, and culturally authentic Goan food. .
✓Trekking in the countryside and nature excursions typically take place around Arambol.
✓Unlock your teaching potential with cues, knowledge, tools & hands-on practical work to build your voice as a teacher. Our format allows you to shine.
✓All of our instructors are passionate, experienced practitioners and RYT & E-RYT teachers, with a high degree of knowledge a nd skill in order for you to experiment and find your voice as a teacher and yogi, we work to give you the chance, resources, direction, and encouragement.
✓We provide one of the most reasonably priced Yoga Alliance-accredited YTTs available worldwide because we believe in offering excellent value for money.
✓We believe in the power of community and we provide you the chance to form meaningful relationships and friendships. When we are all travelling the same road, strangers become family.
We believe in the power of community and we provide you the chance to form meaningful relationships and friendships. When we are all travelling the same road, strangers become family.
06:00 – 08:00:Asana, Pranayama, Kirthan & Bhajan (Chanting )
08:30 – 9:30: Healthy Breakfast
11:15 – 11:30: High tea
13:00 – 15:00: Healthy Lunch & Explore Goa
15:00 – 17:00: Methodology – Teaching Practice
17:00 – 17:15: High tea
17:30 – 19:00: Kriya, Asana & Pranayama
19:00 – 20:00:Dinner time ( At your own cost ) Explore Goa
20:30 – 21:00: Yoga Nidra, Meditation
20:30 – 21:00: Yoga Nidra, Meditation
21:30 Go to bed
(Sunday off and every Sunday night yoga movie night )
According to Ayurveda, food determines who you are. In accordance with this idea, we made it our mission to assist yoga practitioners in incorporating a sattva-quality diet into their daily lives. Sattva is defined as being pure, sincere, and clean. Wholesome vegetarian fare is offered throughout. Prices consist of two meals each day (6 days a week). All of the on-site meals will be very nutrient-dense.
For the duration of the course, we have spent a lot of effort creating a meal plan that will provide you with everything you need to nourish your body and soul. This will allow you to put your full attention on yourself.
Twin sharing & Private room
Adiyogam 200 hour yoga teacher training Team
Location :  442/2, Bhatawadi, Corgao, Goa 403512
Goa is India's little slice of paradise. It is a colourful fusion of Indian and Portuguese cultures, sweetened with sun, sea, sand, and spirituality.On one side, you can see the tall Sahyadri hills, while on the other, you can see the lovely Arabian Sea. This location is on the west coast of India. Goa is renowned for its picturesque landscapes, breath taking beaches, stunning churches and temples, lavish festival celebrations, and vibrant Hindu and Catholic heritage. Goa has developed into a popular winter vacation destination where yoga is celebrated and spiritual activities are scheduled on a daily basis. Sunrise yoga sessions on the beach, reiki healing classes, meditation, and just about every other type of spiritual exploration are all practised without restriction. The area has some of the best beaches, including Arambol, Keri, Morjim, and Ashwim. These beaches provide a variety of activities but are not overly crowded, making them the ideal spot for a yoga retreat and some leisurely beach time.
What's not Included in This 200 hour yoga teacher training certification Package
What's Included in This 200 hour yoga teacher training certificationPackage
(October to March, Temperature 21°C to 28°C) With temperatures ranging from 21°C to 28°C, Goa's winter season begins. Most visitors to Goa choose to go there in the winter since the weather is nice, inviting, and ideal for lounging on the beaches. Holiday celebrations like Christmas and New Years are also carried out with great fervour and are very well-liked by visitors.
(March to June, Temperature 25°C to 40°C)  Goa experiences a hot and muggy summer like many other regions of the nation. The temperature fluctuates from 25°C to 40°C. You should consider visiting Goa during the summer for two reasons. One is that since July is Goa's off-season, you may be able to book hotel and homestay rooms at comparatively lower rates. Second, you can enjoy the peace and quiet and lack of tourist traffic during this time.
(July to October, Temperature 25°C to 30°C) In Goa, the monsoon season begins in July and lasts through October, with temperatures between 25°C and 30°C. Despite the fact that the state experiences medium to high rainfall and that the beaches are off-limits to visitors during this time, there are many other activities you can take part in. This is also the time for the wildly popular Sao Joao celebrations and the Chikalkala mud races.
Tips for Traveling ethically in and around Goa
How to reach Adiyogam yoga center in goa
Pick-up from the airport is included in the course fee,
 please inform us timely on your arrival date and time!
Flights are offered to all the major cities in India and overseas from Dabolim Airport, popularly known as Goa International Airport. About 30 kilometres separate it from Panaji, Goa's capital. From the airport, visitors can hire taxis and other private cars.
Vasco Da Gama and Madgaon Railway Stations in Goa connect the state to all of the main Indian cities, including New Delhi, Kolkata, Chennai, Mumbai, Bengaluru, Patna, and Agra. From the railway station, visitors can hire taxis and other private cars.
Goa is linked to the important Indian cities via the highways NH 66, NH 366, NH 566, and NH 78. Goa is connected to Bangalore and Mumbai through NH 4 and Mangalore by NH 17.
What to bring in goa India yoga teacher training
You will receive a preparation letter when you sign up
 for the course with all the information you need including what to bring.
Karnataka to Goa – 232 KM
Maharashtra to Goa – 688 KM
Rajasthan to Goa – 1683 KM
Tamil Nadu to Goa – 883 KM
Kerala to Goa – 660 KM
Mangalore to Goa – 365 KM
Bangalore to Goa – 585 KM
For specific advice on your intended destinations, it's worth going to a specialized travel clinic.
Travel insurance is always a good idea! Of course, we don't expect anything to happen to you. However, unexpected medical issues not to mention the associated costs of medical aid can cast a heavy shadow on any holiday and holiday budget. So please make sure you have travel insurance that covers medical expenses.
Yoga is the unification of the individual soul, with the transcendental self – Yoga Yajnavalkya